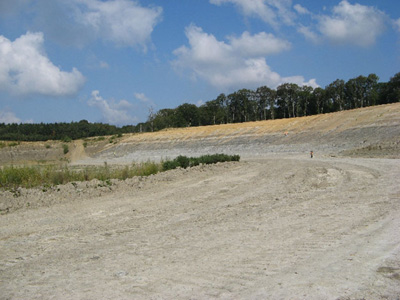 Two further visits are planned to Smokejacks in Surrey. The trips are being run as part of the Kent Geologists' Group field programme for 2017. This Weald Clay brickpit has yielded a number of important finds over the past three decades.
In 1983 Bill Walker, an amateur collector, found a new theropod dinosaur, Baryonyx walkeri, which proved to be crucial to the understanding of the spinosaurs, and on the Geologists' Association fieldtrip to the site in July 2001 a well-preserved partial skeleton of a juvenile Iguanodont (Mantellisaurus atherfieldensis) was discovered by Geoff Toye and subsequently excavated by the Natural History Museum.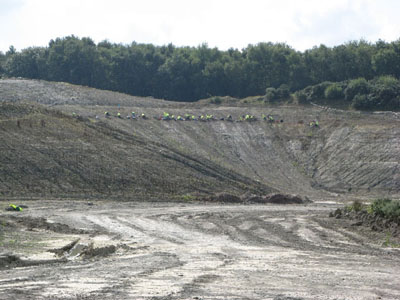 Two Baryonyx teeth were also recovered from the Mantellisaurus excavation, suggesting that it may have been scavenged by Baryonyx. The site is also known for the early flowering plant Bevhalstia pebja (published in 1996) remains of which can still be found.
The concretions of sideritic ironstone and fine grained calcareous sandstone have also yielded numerous insect remains (10 orders) including many new species. Other finds include dinosaur footcasts, remains of pterosaur, fish, crocodile, crustaceans, molluscs and non-angiospermous plants (ferns and cycads, and a Sequoia-type cone).
A death-bed assemblage of teleost fish has also been found, which included the first articulated pycnodont fish from the Wealden. During the 2015 field season a new species of spinicaudatan (clam shrimp) and a number of new beetles were discovered and during 2016 a small claw, possibly Baryonyx.
Pictures of some notable finds are shown below.
Pycnodont Fish - the first articulated specimen from the Weald
Scale bar is cm.


 

Baryonyx Tooth
Scale bar is mm.


 

Lacewing

Length of wing left to right is 24 mm.

Beetle

Scale bar on specimen 
N.B. It is likely that parts of the pit will be flooded - please take care.