KENT GEOLOGISTS' GROUP

What we offer
Achieving The Group's Aims
The aims of the group, in encouraging a knowledge of geology in Kent, are achieved by means of a programme of both indoor and outdoor meetings. Indoor meetings include talks by guest speakers, workshops and quizzes.
Past talks have included 'Beltinge Fish Beds', 'Gems' and 'The Evolution of Plants'. Workshops are informal meetings giving a more 'hands-on' and interactive way of learning geology. Workshops have included, for example, 'Geological Map Interpretation' and 'Microfossils'.
Field meetings have mostly concentrated on Kent geology with visits led by experts to such classic sites as Herne Bay, Sheppey and Folkestone. Less well-known Kentish sites are also visited and more ambitious weekend field trips have been arranged to areas outside Kent, usually with the willing co-operation of members of other geological societies.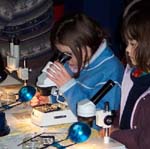 A group newsletter contains programme information, reports on meetings and interesting articles.
A particular aim of the group is to stimulate an enthusiasm for geology among young people. This is achieved by table displays, at local Rock n' Gem shows. These enable the younger generation to search in sand for sharks' teeth. They are then helped to identify the teeth, which they can label and take away for their collections. In addition, with the aid of a microscope, they are encouraged to sift through material samples for microfossils and mineral grains that they then mount on a slide to take away.